At Fit2Live we believe that something as fundamental as nutrition should not be complicated.
In our opinion, starting a nutrition and wellness journey with macro counting or calorie counting or meal plans or rules about what you can and can't eat makes nutrition complicated.
Habit based nutrition coaching focuses on repeating small daily actions that eventually lead to being successful at a long term goal. When one habit is learned and sticks, another is added on top of the learned habit. This habit based approach can really be used to be successful at anything in life, but of course, we apply it to nutrition and wellness.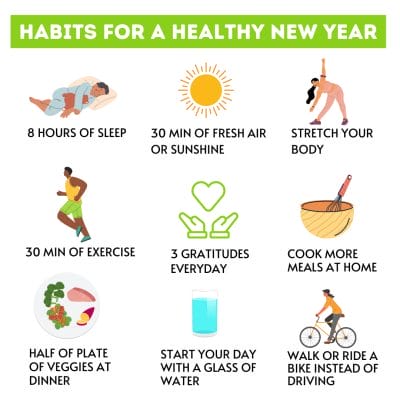 Learning more than one new thing at a time sets people up for failure.
Asking a person who can't seem to get it together enough to drink 6 oz of water each day to weigh, measure and log their meals accurately sets a lot of people up for failure. We have seen it happen many times. 81-90 percent of all new years resolutions fail because people are trying to implement too many new things at once.
In our experience success leads to motivation. When failure happens before success, motivation will never come. It's less complicated for clients to learn one new healthy habit per week vs. five right out of the gate.
Our systems are set up to be able to hold clients accountable to their new habit. If they are successful, then another new habit is added. James Clear calls this habit stacking, and we believe in his methodology.
Habit based nutrition coaching helps take the emphasis off of the food.
The other reason we like habit based coaching first is that it takes some of the emphasis off of the food. It seems contra intuitive however many food choices are made based on emotions, time constraints, and lack of planning rather than what a person actually desires to eat. If we can use the holistic approach of building habits first, the nutrition component begins to fall into place.
All these reasons are why we lead with a habit based approach to nutrition coaching.
If advanced nutrition coaching methods are ever needed with our clients, then we will for sure explore other styles. But to start out, even with elite athletes, we focus on a habit based approach first.
If you are interested in improving your nutrition/wellness and fitness habits, set up an appointment with Coach EJ HERE and to discuss the best plan to get started with adding one habit at a time that will lead you to be the best version of you!
(thanks to Heather Kiddoo and Healthy Steps Nutrition for contributions to this post)
UP NEXT: Habits > Goals