February 2019
Get to know Kaily's Success Story at Fit2Live Below!
Kaily started at Fit2Live in October of 2018 and hasn't looked back since. Since completing foundations, Kaily has been a staple member in classes at Fit2Live. She has a consistent no complaints attitude each time she comes to class and typically puts others way before herself, she is a pro question asker. She has been crushing PR's by the week and has a blast doing it. For these reason and many more, Kaily has been chosen as our member of the month!
Learn more about Kaily and her Fit2Live journey below!

Tell us a little about yourself, where you're from, what you do outside of Fit2Live, family, hobbies, etc.
I was born and raised in Ann Arbor. I graduated with a triple major in math, economics, and English. I work full-time as an actuarial analyst (almost four years) with a side job teaching standardized test prep courses (one year).
When and why did you get started at Fit2Live?
I started in October 2019 with zero experience in CrossFit.
I was at a point in my life where I felt like garbage. I had gained 15 pounds in about 3.5 years and was burned out. I realized that this was not sustainable, so I looked up "Ann Arbor gym friendly". Fit2Live popped up with stellar reviews.
During my first Foundations session, there was a class of women who were incredibly friendly, but doing the most intense things like lifting weights that looked heavier than them or effortlessly crushing pull-ups. It was terrifying. I wanted in.
Proudest CrossFit moment/achievement to date?
My first unassisted strict pull-up!
At the beginning of the 6-week progression, Coach Ryan told me that I would be able to do my first within a matter of weeks. I thought he was nuts. At the end of the progression, I not only knocked out my first pull-up, but two in a row! (RIP Coach Brandon's eardrums.)
What has made the biggest impact in your training, results, or mindset so far in your early CrossFit journey?
The coaches!
Fit2Live has a solid team of coaches who;
Lead high-octane classes with compassion and energy,
Are by turns your biggest cheerleaders and greatest butt-kickers, and
Collectively own an incredible wealth of knowledge.
They're talented at gauging your ability and knowing how far to push you. They foster an inclusive, dynamic atmosphere – I always leave class in a great mood!
I also meet with Coach Ryan and Coach Rob on a regular basis. This has been a game-changer! They've developed a personalized plan that complements the work we do in class, targets my weak spots, and builds up a rock-solid foundation of technique.
If you could travel to any place in the world tomorrow, where would you go?
Warm + mountain trails/beach
If you could make the workout "Kaily", what would it look like (movements, repetitions, etc)?
Buy-In: 800m run
3 Rounds for Time
5 DB Renegade Rows (20/30#)
10 DB Thrusters (20/30#)
15 KB Swings (16/24kg)
20 Jump Squats
What is your favorite thing about Fit2Live?
Everything! I love the programming, coaches, and community.
I don't believe in magic bullets, but working out at Fit2Live is pretty darn close. I'm new, but I've seen progress in the way I look, move, and feel since training here. I'm surrounded by smart, fun, interesting people who hold each other accountable and encourage the heck out of me.
Coming to Fit2Live has been life-changing – I look forward to my journey here!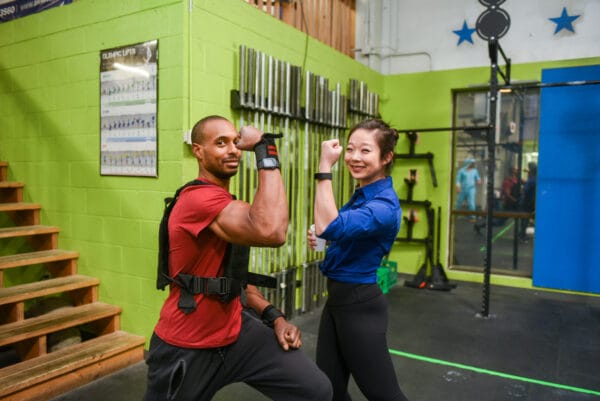 Pick one of each, favorite movie, tv show, song and book of all time for you?
Book: The Little Prince by Antoine de Saint-Exupéry
I'm not sure about the others, so I'll leave this quote from The Little Prince: "And now here is my secret, a very simple secret: It is only with the heart that one can see rightly; what is essential is invisible to the eye."
What CrossFit/fitness goal are you currently working towards the most?
My goal is to do the workouts as prescribed!
Want to start your fitness journey just like Kaily did in 2018?