September 2023
GET TO KNOW ABHEEK'S SUCCESS STORY AT FIT2LIVE BELOW!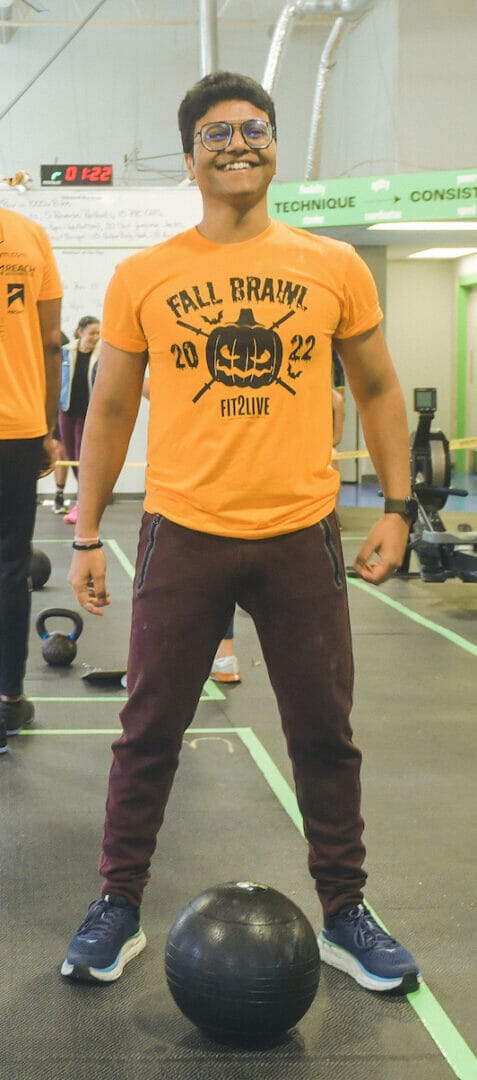 This month's spotlight is on the always happy, upbeat and very consistent Abheek Kumar Srivastava!
Abheek has been showing up to Fit2Live with a smile on his face since September of 2021.
He is a member of our 100 class club and is fast approaching our 250 class club and that awesome red t-shirt!
You'll never hear Abheek complain and he is always eager and excited to try new, challenging things with the support of his coaches and fellow F2L'ers.
He rarely misses a community event and has gone all in on his fitness over the last 2 years and it shows.
For these reasons and many more, Abheek has been chosen as our member of the month for September.
Tell us a little about yourself, where you're from, what brought you to the states, what you do outside of Fit2Live, family, hobbies, etc.
Born and raised in the mystical city of Varanasi, India, a place where the Ganga river whispers ancient secrets, I embarked on a journey of self-discovery that took me to the vibrant city of Chennai. There, I not only mastered the art of engineering but also the Tamil language, adding a new language to my linguistic arsenal. Now, I can proudly say I speak five languages! My adventure continued in Pune, where I delved into the world of app development, crafting digital wonders as a Senior App Developer. Amidst the kaleidoscope of experiences that India offered, I found myself yearning for a new adventure, a journey that would take me across oceans to the land of opportunity – the United States. Fueled by an insatiable passion for technology and a burning desire to make a difference, I set out to live my American Dream, with the unwavering support of my family, including my two rockstar younger brothers, back in India.
When I'm not crushing it at Fit2Live or immersed in a sea of code, I find solace in the world of books, the stroke of a pencil on paper, and the thrill of learning something new. Life, for me, is a canvas of endless possibilities, and I'm painting it one vibrant stroke at a time! It is a never-ending learning journey, and I'm here for it.
When and why did you get started at Fit2Live?
I embarked on my Fit2Live journey in September 2021. At the time, I was on a quest for a space that would not only motivate me but also help me maintain consistency in my fitness routine. My previous experiences at conventional gyms left me feeling adrift, lacking both structure and support. While scouring the internet for gyms in Ann Arbor, I stumbled upon the Fit2Live website. The glowing testimonials from current members radiated such positive energy that I couldn't help but feel drawn to it. It was as if the universe was telling me, 'This is the place you've been searching for!' And so, here I am, a proud member of the Fit2Live family.
What is your favorite memory so far at Fit2Live?
One of my most cherished memories at Fit2Live is participating in the Fall Brawl 2022. To be honest, I was initially apprehensive about my ability to survive such an intense workout event, having never participated in anything of the sort before. The thought of completing any of the WODs seemed like a daunting task. However, the event turned out to be a blessing in disguise as it gave me the opportunity to make a great friend. I had the good fortune of teaming up with the incredible Kelsey. Not only did she make the WODs seem manageable, but her positive energy and supportive nature also made the whole experience a lot of fun. Kelsey has since moved to Alaska, and while I will definitely miss her camaraderie and spirit during this year's Fall Brawl, I am excited for her new adventure.
What is your proudest achievement at Fit2Live to date?
My proudest moment at Fit2Live has to be crushing this year's Murph workout, an achievement I not-so-humbly brag about to my friends and brothers. Last year, I clocked in at 65 minutes, so this year, I aimed to shave off 5 minutes and finish in 60. But lo and behold, I blitzed through it in under 53 minutes! I was totally wiped out by the end, but the thrill of smashing my goal and finishing way ahead of my target time was totally worth the sweat and sore muscles.
Other than family, what do you most often miss about India?
Beyond my family, what I find myself missing most about India is the very soul of my hometown, Varanasi. I yearn for the mornings there, when the first light of dawn is accompanied by the melodic sound of prayers and chants, creating an atmosphere of serenity and reverence. This, followed by a cup of tea lovingly prepared by my mom, sets a tone of warmth and mindfulness for the day. And oh, the street food of Varanasi! Just thinking about it makes my mouth water with anticipation. Then there are the vibrant evenings of Chennai, the city where I spent my formative years. The energy there is palpable, filling the air with a sense of vitality that often inspired me to take long walks, punctuated by stops at a coffee shop for the perfect cup of Chennai filter coffee. Lastly, but by no means least, I miss the laid-back weekends in Pune, where my friends and I would gather to cook together, watch movies, and engage in meandering conversations. On other days, we would venture out to explore new restaurants and cafes, each outing an adventure in its own right. These moments, though simple, are imbued with a sense of connection and discovery that I deeply miss.
What is a fun fact or hobby that you have that someone might not know about you?
In a world where communication has become almost entirely digital, thanks to technologies like email and instant messaging, the art of letter writing has become somewhat of a lost practice. However, I am fortunate to have preserved a piece of this fading tradition. One of my most cherished possessions is a letter that my grandfather wrote to me in 2007 when I was living in Chennai. It's a tangible piece of my history and a connection to a time and a person that I hold dear.
If you could travel to any place in the world tomorrow for vacation, where would you go?
If I could jet off to any corner of the globe tomorrow, I would choose the enchanting city of Venice, Italy. The winding canals, historic charm, and the melody of gondoliers make it a dream destination for me. I can't wait to soak in all the art, history, and culture that Venice has to offer.
If you could make the workout "Abheek", what would it look like (movements, repetitions, etc)?
5 Rounds for Time (with a 40 mins time cap):
1 Rope Climb
10 Dips
50m KB Farmer Walk
5 Handstand Pushups
10 Chin Ups
20 Double Unders (or 40 Single Unders)
10 Box Jumps (30/24 inches)
10 Burpees
15 Kettlebell Swings
Favorites!
Favorite Movie:
I have many favorites, but one film that had a significant impact on me is '3 Idiots'. I watched this movie before pursuing engineering. It's a story about engineers who impart many valuable lessons, two of which I particularly love: 'Chase excellence, and success will chase you,' and 'Don't be afraid to challenge the status quo.' These messages have stayed with me and continue to inspire me to strive for excellence in everything I do and to question and challenge the norm when necessary.
TV Show:
'Friends' is hands down my favorite TV show. I stumbled upon it quite by accident, and it was love at first sight (or rather, first episode). As I journeyed through the seasons, I found myself feeling as though I was a part of the group, laughing at every joke and connecting emotionally with all the characters. It's more than just a show to me; it's like spending time with old friends.
Song:
While I have many favorite songs, one that stands out for me is 'Kung Fu Fighting.' The lyrics and vibe of the song are just infectious. It has this incredible ability to instantly lift my mood and get me grooving. It's one of those songs that never fails to put a smile on my face and energize me.
Book:
My favorite book is 'The Alchemist' by Paulo Coelho. This book has taught me the importance of following my dreams and listening to my heart. It beautifully conveys the message that the journey is as important as the destination, a philosophy that I try to incorporate into my daily life
Quote:
My all-time favorite quote is from the iconic Rocky Balboa: 'Life ain't about how hard you hit. It's about how hard you can get hit and keep moving forward; how much you can take and keep moving forward. That's how winning is done!' This quote is a powerful reminder that resilience and perseverance are key to overcoming challenges and achieving success.
What daily habit has changed your life for the better?
One daily habit that has been a game-changer for me is journaling. Taking the time each day to put pen to paper has not only helped me organize my thoughts but also provided a space for self-reflection and growth. It's like having a conversation with myself, where I can celebrate my wins, acknowledge my challenges, and set intentions for the day ahead. This simple act of daily self-care has had a profound impact on my mental well-being and overall outlook on life.
What future fitness goal are you currently working towards?
I am currently working towards sculpting a more toned physique and refining my techniques. Specifically, I am focusing on mastering kipping pull-ups, bar muscle-ups, and double unders. My goal is to have these skills down pat by the end of 2024. It's a challenging journey, but I am excited about the progress I am making and the strength I am gaining along the way. A huge shoutout to my coaches for being a constant source of guidance and support. Big thanks to Coach Sharon and Brandon for keeping a watchful eye on my progress and letting me know when it's time to scale up.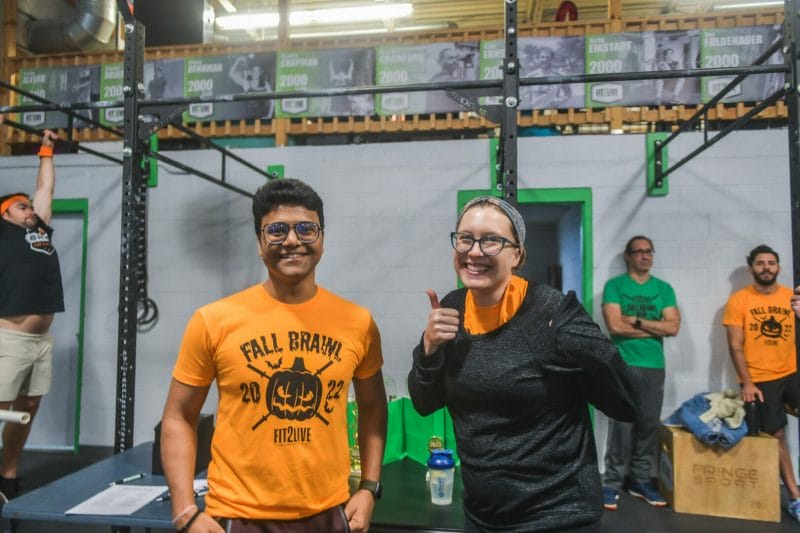 THANKS FOR BEING AWESOME ABHEEK! KEEP UP THE GREAT WORK!