#1. It's Fun!
What better way to spend a fall Saturday than surrounded by your fellow F2L'ers, high five'ing and fist bumping while doing hard things. Many members rave that the Fall Brawl is the event they love the most at Fit2Live, it's fun and supportive and a heck of a good time.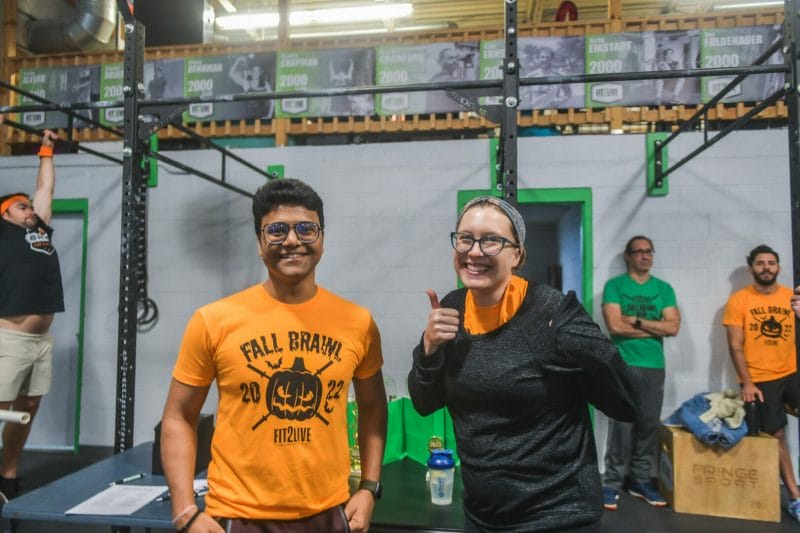 #2. It's a safe way to test your fitness and it's safer than other competitions.
We originally created the Fall Brawl In House Competition because we wanted to give our members a fun, safe and friendly workout competition to test their fitness with and to most importantly have a good time. Your coaches are here supporting you. Your fellow F2L'ers are here to support you. The workouts are well thought out, balanced and not overdone.
#3. It's a great way to try your first fitness competition.
What better place to get your first competitive workout experience in than in the friendly confines of Fit2Live surrounded by those who support and encourage you everyday. The weights are moderate, the movements lean more towards the simple side of things. There is no high level gymnastics and weightlifting. This is not the case in most outside beginner competitions.
#4. It's a great way to meet new F2L'ers and friends!
It's easy to get into our routines and to only live under our normal class time rock. The Fall Brawl is a great way to meet all of the other amazing F2L'ers who are working hard and coming to other class times.
#5. Extra training motivation leading up to the Fall Brawl.
Anytime you set your sights on a goal and sign-up, you'll be a little more consistent, you'll train a little harder, and you'll enjoy the process that much more. This is certainly the case when you sign-up for the Fall Brawl.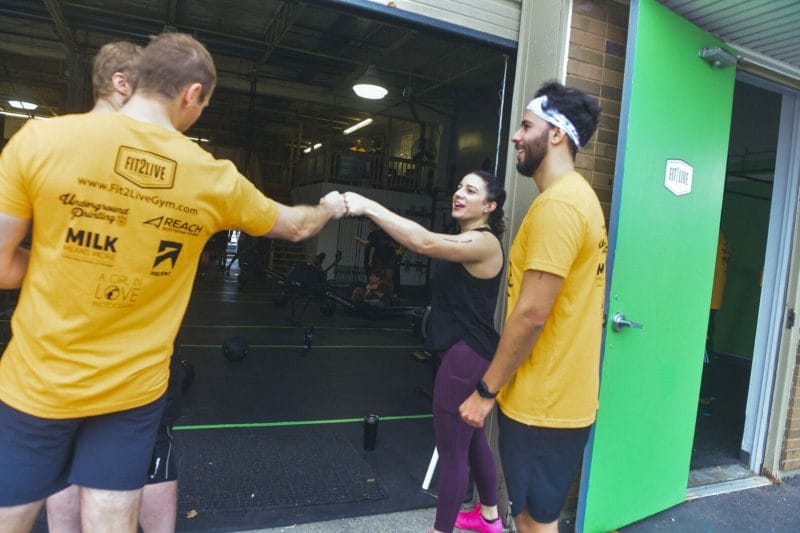 #6. Enjoy the camaraderie of your partner.
Fear not, you won't be traveling into the Mists of Avalon along. Your Fall Brawl partner will be there to have a good time, support you, and balance out the workout load for each and every workout.
#7. Accomplish something that you'll be proud of.
There is no doubt about it, doing and completing the Fall Brawl is quite the accomplishment. How often are you doing 3 workouts in a day? You'll have an overwhelming sense of accomplishment and pride after successfully completing the Fall Brawl.
#8. Memories and pictures forever!
The good times and workouts from each Fall Brawl last forever! Members still reminisce about the workouts and stories from each previous Fall Brawl. Melissa Squires will also be there capturing all of the memories on her camera, show off your workout photos to your friends and family members for years to come.
#9. Get a sweet t-shirt and prizes!
Register for the Fall Brawl and get a sweet t-shirt to show for it, one that you will certainly show off and be proud of for years.
You might even get a prize bag for best spirit, best costume or for placing 1st, 2nd or 3rd place! SA-WEET!
#10. Massages from Reach Bodywork!
FREE bodywork from Reach Bodywork, need I say more?
#11. MORE FITNESS!
Training for and completing the Fall Brawl undoubtedly leads to more confidence in your physical abilities and shows you what you are truly capable of. You will certainly have more physical and mental fitness when it's all said and done. Fitness and fun that will last you a lifetime!
READY TO HAVE SOME FUN IN THE FALL BRAWL?
DON'T HAVE A PARTNER? NO PROBLEM!